Our Leicester Accommodation
From £ per week
Waterway Gardens offers De Montfort University students affordable accommodation. Perfect for the Business School with on-site parking and all-inclusive rents.
About Leicester
Leicester's multi-cultural population has created a vibrant atmosphere bursting with different cultures, traditions and events throughout the year, making it a popular place to live. Its popularity has recently increased after Leicester City Council and the University of Leicester found the remains of King Richard III underneath a car park.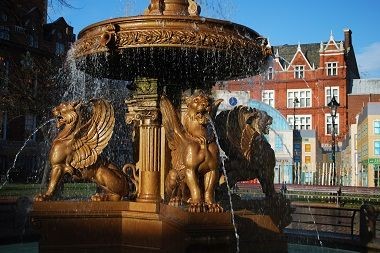 Shopping
Leicester is a great place for shopping, with everything from designer labels to small, individual boutiques.
Eating
Since Leicester is a massive multi-cultural city there are endless cuisines to try such as Spanish, Japanese, Greek, American and traditional Indian/Bangladeshi dishes and top 5 voted by TripAdvisor are:
Nightlife
Nightlife in Leicester is very popular in the East Midlands having some of the best clubs and bars. The main ones to check out are:
Candy Stripe - one of the biggest bars along Belvoir St, with a great atmosphere, great interior and bar.
Club Republic - dubbed as Leicester's newest and swankiest playground. It's the UK's most amazing, state of the art technologically advanced nightclub. This club has 7 sections including a Sky VIP Bar.
Liquid Envy - Liquid and Envy has had the privilege of hosting some of the biggest acts in the music industry from Tinie Tempah to Westwood. Celebrities aren't shy either with pop stars and footballers regularly spotted in the club.
MOSH - hosts three great nights of indie and alternative music each week.
Student's Union nights – Leicester University SU is home to the O2 academy which hosts a variety of nights out and artist performing live. 
Music
Leicester has seen a flourishing music scene over the past few years with new venues and an increase of international acts coming to Leicester to perform. It also has a mix of intimate venues. Some examples of the music scene in Leicester are:
The Arts & Attractions
Leicester has a long cultural heritage and is home to some of the most popular museums and historic buildings:
Every year Leicester has a Caribbean Carnival and the Mela Festival, which celebrates South Asian art and Indian culture. Leicester also has the largest Diwali celebrations outside India, which is held on the Golden Mile. It is always a popular event with the big fireworks display at the end. 
Sport
Leicester has a very large sports community thanks to its success in rugby, football and cricket. There are also lots of opportunities to take part in sports or to watch professional sports teams such as:
At the University of Leicester they have two Sports Centres both with a pool, sauna, steam room, spa pool and other extensive indoor and outdoor facilities. They also have a variety of sports clubs students can sign up too and make new friends whilst staying in shape. There is the famous Varsity games each year between the two universities as well.
Getting Around
It's very easy to get around Leicester by foot, all of our properties are in short walking distance to both De Montford University and University of Leicester. If you're into cycling then it's another easy way of getting around Leicester without breaking the bank and staying environmentally friendly. he public transport links of Leicester are ideal for travelling across Leicester. The buses go in and around Leicestershire at regular intervals throughout the day and evening. The Leicester Skylink bus service connects the city centre with East Midlands Airport in under an hour (via Loughborough). If it's further out of Leicester you're looking to venture then there are regular train services between London St. Pancras, the East Midlands and Yorkshire.
I'm coming back next year because it's value for money, staff are lovely and I'd been made to feel very welcome over the last 3 years.
Danika Ripley, Master of Nursing Science, University of Nottingham